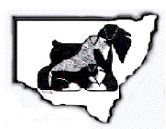 Welcome to the Schnauzer Club of NSW Inc (Australia) Website.
Feel free to browse around and learn about our favourite breed of dog, the Schnauzer (including Miniature, Standard and Giant Schnauzers).
The Schnauzer Club has a main goal which is betterment of the breed, and asserts that its membership have an obligation to the Schnauzer (including Miniature, Standard and Giant) breed, to preserve the magnificence of the breed without exploiting it. The Club was established with those goals in mind and as we expand into each new area of involvement, the Club continues to strive towards those goals. The Club's membership is actively involved in all those facets of the Breed that contribute to these goals.
Please look around our website and read/learn about our breed, and remember to come back for updates and other information.
Make sure you check out our Events, Shows and Trials pages to find out more information about future events ,Any last minute information involving shows / events will be made available on our Facebook site
Important information for Nominations and Voting for Office Bearers and Members of Committee here
Reminder!! Membership 2022/2023 are now due, application form can be found here:
Club Constitution
The Committee of SCNSW Inc, as guided by Dogs NSW, has over many months been working on the development of an updated Constitution for our Club. Both the old and revised Constitution documents are available for review here:
Current Document 1 Document 2 Document 3
A Notice of Motion is now posted for considering the adoption of the revised Constitution, subject to 75% membership approval, at our upcoming AGM on August 3, 2022.
Puppy scammers are getting more sophisticated, please be very diligent when contacting a breeder.
Schnauzer Specialty Shows - TBA
Pointscore Shows - 2nd Half of 2022- Change of Shows and dates!
Spring Fair - August 2022
Agility Trial - 16 July 2022- cancelled
If you are wanting to locate a quality puppy from a registered breeder please email our Puppy Registrar at:
Please provide your name, address, and contact number together with some background details about yourself, family, previous dog ownership and why you think a schnuazer would suit your lifestyle.
Details of Point Score Shows on the SHOWS and TRIALS Page
It is a requirement thal all exhibitors and designated handlers adhere to:
Find and Like us on Facebook
Schnauzer Club of NSW
Schnauzer Rescue NSW
Contact Details
274944 Visitors